Bobcat Kittens Rescued by Caring Neighbors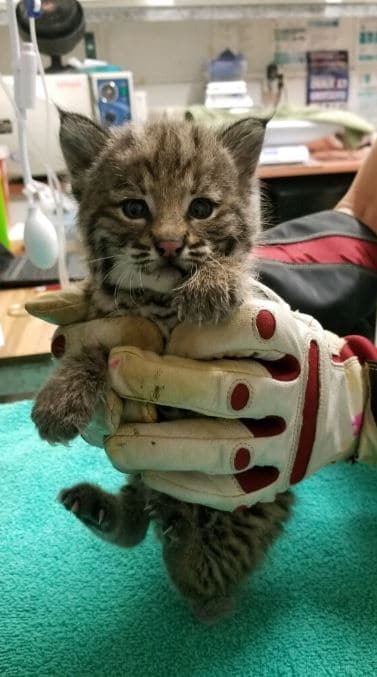 It was the last thing she expected to find in her backyard. But when a San Anselmo homeowner began pulling out her overgrown ivy, she uncovered a tiny bobcat kitten looking up at her – terror in her big round eyes.
Once she was at WildCare, our medical team quickly determined this little kitten was healthy but dehydrated and hungry.
Caring for an orphaned bobcat is unusual, but demand is growing for our help in saving thousands of injured and ailing wildlife … or those who suddenly find themselves without a mother.
[well]
We've launched our Holiday Fund drive to meet this need and we urgently need your support.
Our goal is to raise $50,000 by December 31 to pay for nutritious formula, lifesaving antibiotics, incubators, x-rays, and everything else our patients need. I hope you can chip in $15, $25, $50 or even more.
[/well]
Days after the first tiny bobcat kitten arrived, another bobcat was found near the ivy. This little male was in a tree, crying for help. He was rushed to us and, based on his age and location, we confirmed he was the brother of the little female.
Then a bigger shock: a third bobcat kitten was found. This fellow was the tiniest of all and not in good shape. By the time he got to us, it was too late, and sadly, the baby died within hours.
Not all endings are happy ones, but with the help of a caring wildlife lover like you, we can ensure that – whenever there's a chance to save a baby bobcat, a little bird, an injured opossum, or an orphaned fawn – we can do it.
Our Holiday Fund Drive is the most important one of the year. By giving the gift that comes directly from your heart, you'll help us meet our $50,000 goal and assure we're ready for anything and anyone, including bobcat kittens.