Skunk with a Jar on His Head
Photos and video by Melanie Piazza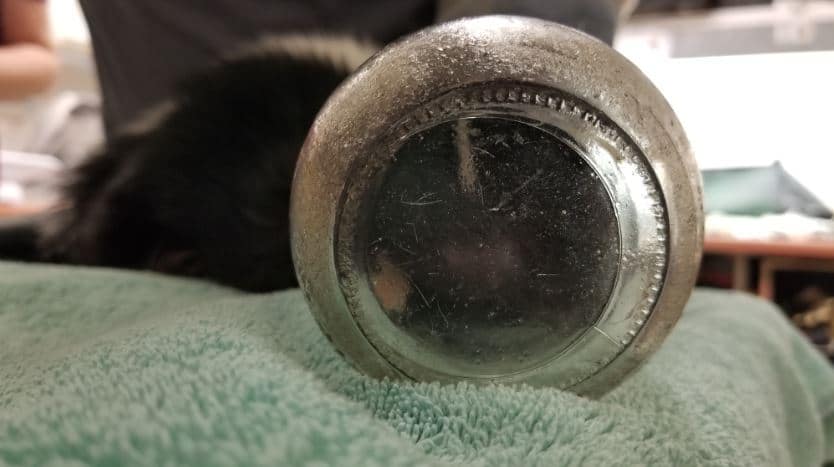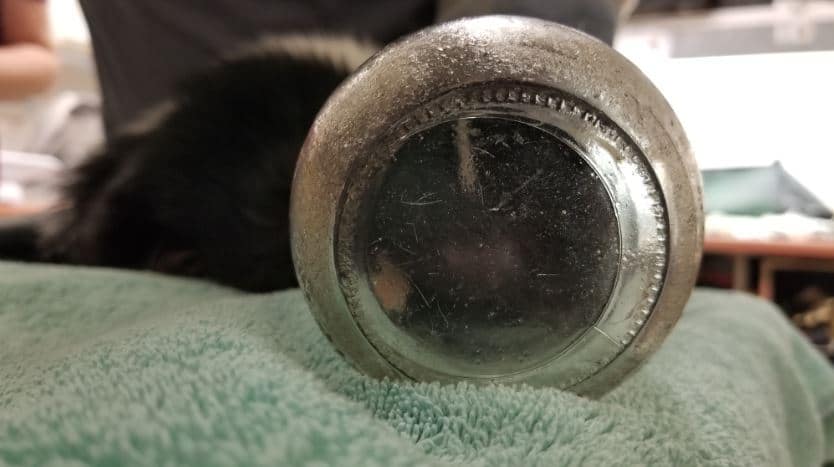 Ah, the sweet smell of strawberry jam. If you're a hungry skunk, that scent would be very hard to resist!
This skunk must have tried to reach the last remnants of jam at the bottom of the jar, and when his tongue couldn't quite reach, he just kept pushing. He ended up with the glass jar firmly stuck over his head and neck.
This is a surprisingly common problem with skunks– their excellent sense of smell draws them to containers with residue remaining, and their lack of opposable thumbs makes it very difficult to remove something stuck over their head. The conical Yoplait yogurt containers are a particular danger to wildlife for this reason.
Neighbors saw this skunk stumbling around with the jar on his head, and they knew it was only a matter of time before he staggered into oncoming traffic or suffocated.They banded together to capture the skunk, who was so exhausted and stressed he didn't even spray.
After a failed attempt to remove the jar themselves, the rescuers found WildCare in an online search and called our Hotline (415-456-7283) at 4:45pm. Medical Staff usually leaves at 5pm during the less-busy winter months, but knowing that this skunk was on his way, and that he would need immediate care, Medical Staff agreed to stay. The skunk's rescuers braved rush-hour traffic and rushed the animal to WildCare as quickly as possible.
Once he was in the Wildlife Hospital, Medical Staff used a syringe of water-based lubricant to saturate the skunk's neck at the mouth of the jar. With one staff member holding him, the other very carefully started maneuvering the jar off the head.
As you can see in the video above, it doesn't come off easily! There is no wonder the skunk wasn't able to remove the jar himself, given how difficult it was for Medical Staff to get it off.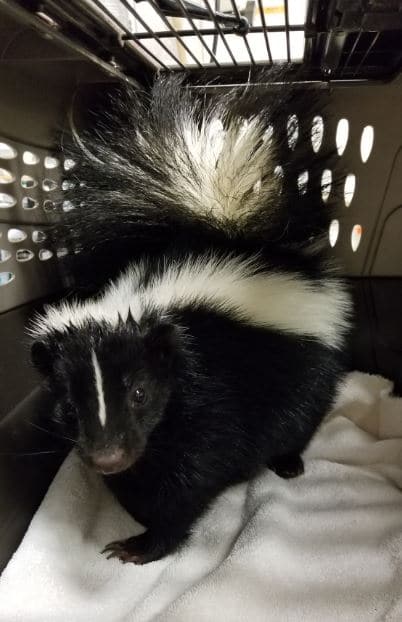 Finally, with a soft "pop" the jar comes free. The skunk takes a deep breath, and starts sniffing– it must have been a very odd experience for this very olfaction-reliant animal to have smelled nothing but the inside of the jar for so many hours!
An exam fortunately found that, aside from being slightly dehydrated, the skunk had no other injuries from his experience. He was kept overnight for observation and was given a warm bed and a good meal (which he devoured.)
This handsome, healthy adult skunk was released back to his home territory the next day with his rescuers on hand to cheer him on. Watch his short but delightful release video at the bottom of this page.
Seeing the tail end of a skunk may give you pause, but remember that skunks make excellent neighbors, eating the slugs, snails and mice in our yards. They also give you lots of warning before they spray, including stomping and tail waving. Click to learn more about skunks and for the recipe to remove skunk spray!
[well]
So many of the animals WildCare treats arrive because of a negative interaction with humans or our trash. Without his brave rescuers and WildCare's quick intervention, this skunk would not have survived.
You can help us always be ready to help animals like this skunk!
[/well]
What else can you do to prevent hazards like this to wildlife?
– Place all garbage and recyclables in a wildlife-proof container.
– Always pick up litter when you see it and put it in a closed container.
– Reuse containers instead of recycling them or throwing them away.
– Rinse out tasty-smelling residue (but remember, especially in drought-stricken California, conserving water is a priority, so setting jars and containers to soak with a small amount of water is better than extensive rinsing. Including plastic and glass containers in a full dishwasher load is another option than will remove residue.)
In any situation where you see an animal with something stuck on his or her head, always call WildCare's Living with Wildlife Hotline at 415-456-7283 for advice and assistance!