This Sparrow Needed to Be Rescued Twice!
White-crowned Sparrows are hardy little migrants that can be commonly seen in backyards across the United States. With distinctive white and black stripes on their heads, they're easy to identify as they hop through your yard looking for seeds, berries and insects.
These sparrows make an up to 2,600-mile migration from their breeding grounds in Alaska and Northern Canada to their wintering grounds in the lower United States. That a tiny bird can make such a journey is astounding (a migrating White-crowned Sparrow was once tracked moving more than 300 miles in a single night!), so it is especially heartbreaking when these valiant little birds crash into windows or get caught by cats as they move through our urban and suburban neighborhoods. Learn more about keeping migratory birds safe here.
This bird was found at the entrance to Golden Gate Park in San Francisco. We don't know what stunned him. He was nonresponsive but breathing when his rescuers picked him up and placed him into an open box. The rescuers made the 30-minute drive to WildCare without the bird's condition changing, so they climbed out of the car and started across the bridge to WildCare's courtyard.
Just then, the sparrow came to and flung himself out of the box, over the side of the bridge and into the thick, viscous mud of the brackish Mahon Creek that ebbs and flows with the tides outside WildCare's doors.
The horrified rescuers ran into WildCare's reception area calling for help for the little bird!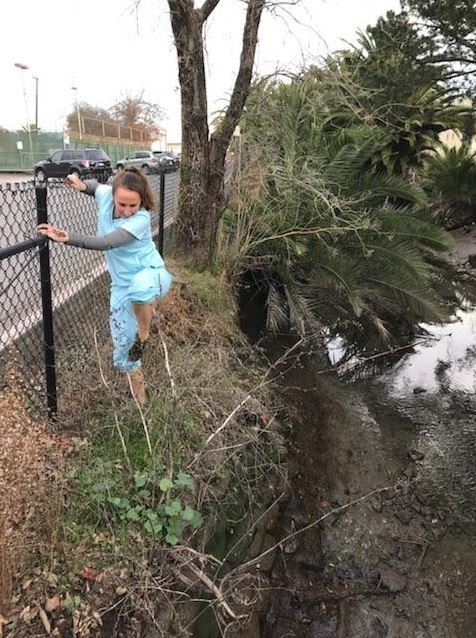 Not to panic… this has happened before.
It is surprising how often a completely unconscious rescued animal will wake up suddenly, just as he arrives at the Wildlife Hospital! One adult squirrel made the ride from where she was hit by a car in Sausalito to WildCare in San Rafael (about 20 minutes) wrapped only in a sweater. This squirrel woke up suddenly as the car engine was turned off, and, after what must have been an exceedingly hectic few minutes of barreling around the interior of the car, the squirrel made a beeline into the innards of the vehicle's dashboard. It took WildCare staff and a helpful mechanic more than an hour to extricate the animal from the dash!
It's also happened before that an animal escapes her box or enclosure while being carried into WildCare. When that happens, it's time to dive into the muck.
Director of Animal Care Melanie Piazza came running out with the anxious rescuers to check the level of the tide. Fortunately the creek wasn't full of water, so the fluffed bird could be clearly seen stuck in the mud.
Melanie quickly removed her shoes ("I didn't want to lose yet another pair of shoes," she commented, demonstrating that muck-rescues get easier with experience), and climbed over the fence. With cold, salty mud oozing up to her ankles, she used a net to carefully constrain the sparrow, and then scooped him out of the mud. She waded over to bridge and raised the bird into the waiting hands of fellow Medical Staffers to be brought into the hospital.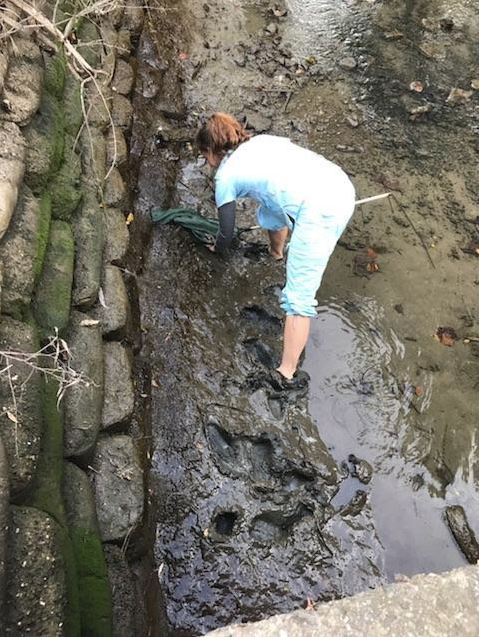 The sparrow was immediately placed in a heated oxygen incubator to help him stabilize after his ordeal. A more extensive examination was needed, but Medical Staff had to wait until the bird's stress level reduced. A brief exam showed the bird was very underweight, but that he had no apparent injuries. His prognosis is guarded due to his emaciation.
What's the take-away from this story? Remember to keep any wild animal you rescue safely contained (but provide the animal with air holes if he's in a box or bag, and make sure he isn't wrapped too tightly and that he can breathe!) and make sure he stays contained until he reaches the WildCare front desk for intake! It's WildCare's policy to never open a box or bag containing a patient at our front desk because we have had escapees inside the building too.
Want more information on what to do if you see an animal in distress? We recommend calling our Living with Wildlife Hotline for advice 415-456-7283, and click here for more information on our website!
[well]
Our Wildlife Hospital admits 200 – 300 injured migrant songbirds every year. Your donation today will give us the resources to make sure every one receives the care she needs to return to the wild, and continue her epic journey!
[/well]