Join Our Support Team!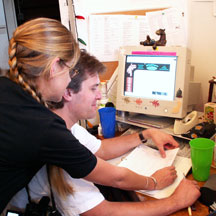 WildCare's Support Volunteers help with ad hoc and ongoing projects such as cage building and facility maintenance, computer support, data entry, event planning and staffing, and other jobs.
We have limited spaces for volunteers between 15 and 17 to assist with administrative tasks and maintenance repair tasks. If you would like to express your interest in volunteering with us, please fill out the below form and contact us at volunteer@discoverwildcare.org or 415-453-1000 x21 if you have any questions
Support volunteers can also help WildCare by lending their professional skills to areas such as fundraising, public outreach, owl box building and other opportunities.
If you are looking to volunteer and make a difference to WildCare without the time commitments or specific duties required by our Wildlife Hospital and Nature Education volunteer programs, our volunteer support opportunities can often utilize skills you already have.
Support volunteers are notified via email when the need for help and opportunities arise.
To join our Support Team, please complete the form below.