WildCare's Youth Volunteer Program is NOW OPEN for High School Students! 
If you are interested in applying for our 2024 Youth Wildlife Hospital Volunteer recruitment, please carefully read this page and then complete the application.
Important note: All Wildlife Hospital volunteer positions will take place at our transition site at 251 North San Pedro Rd in San Rafael for 2024 and 2025. This is an exciting opportunity to get your foot in the door as a volunteer at our brand new facility which will open in late 2025!
Youth wanting to become Wildlife Hospital volunteers must be able to meet the following requirements (no exceptions):
You must complete all application materials and communications by yourself, independently (cannot be completed by parents)
Accepted applicants must attend the mandatory youth orientation on Sunday, January 28, 2024, 11am - 1pm.
You must complete all online and in-person trainings
You must commit to one 4-hour weekly shift (or 1.5 hours for school days)
You must commit to a minimum of 6 months on the weekly shift (though we hope you'll continue for many years to come!)
Completed applications will be reviewed, and accepted applicants will be invited to attend the mandatory in-person orientation. Any additional questions you might have will be answered at the youth orientation.
Every spring and summer, WildCare experiences what is referred to as "Baby Season," when our patient load soars with orphans and injured wildlife in need of care.
We are looking for high school volunteers to assist our adult Hospital Volunteers and Medical Staff with support tasks such as sweeping, mopping, laundry, dishes, patient diet prep and enclosure cleaning.
It is very important to note: while Youth Volunteers will be working within the Wildlife Hospital and will, at times, have the unique opportunity to see wildlife patients up close, they will NOT be working hands-on with any animals.
The work all of our volunteers do is imperative in order to maintain and deliver our high level of care for our wildlife patients! This is a great opportunity to learn more about the behind-the-scenes operations of a Wildlife Hospital.
Students who successfully volunteer in this program will be given priority when applying for an adult Hospital Volunteer position (18 years and up).
The Youth Volunteer Orientation will be held in person for accepted applicants at WildCare on Sunday, January 28, 2024 from 11am to 2pm.
Teen Volunteers Needed (ages 14—18) at WildCare's Wildlife Summer Camp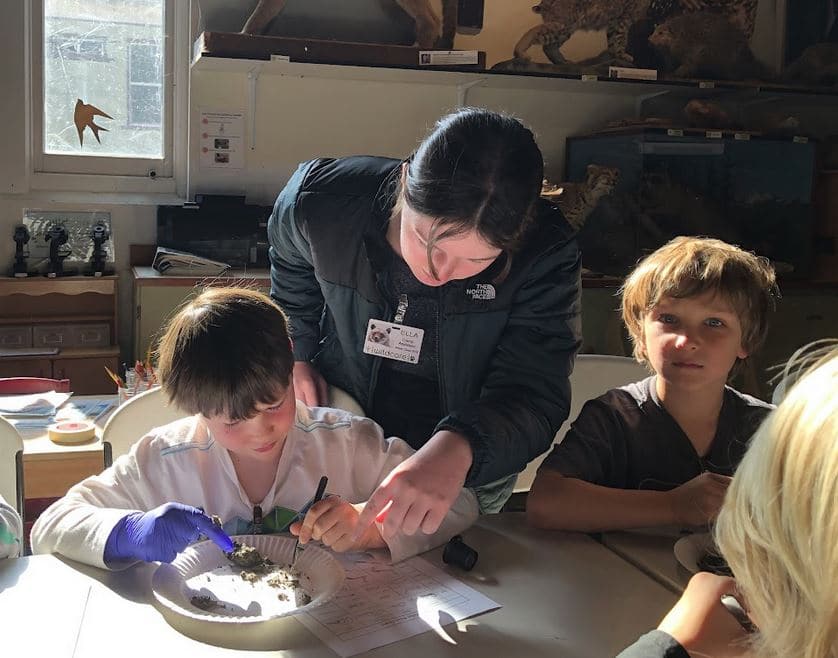 High school students ages 14 - 18 will work with our Summer Camp teachers and aides to provide fun and exciting nature and wildlife experiences for younger campers.
You will help with craft projects, hikes, and games, and gain valuable experience working with children while earning community service hours.
This program is designed for students aged 14 to 18 years old who enjoy nature, wildlife, and working with children.
WildCare Wildlife Camps operate from 9:00 am to 3:00 pm, Monday to Friday, although Volunteer Assistants are required to work from 8:30 am to 3:30 pm.
Camp will be held at Short School and Albert J. Boro Community Center, both located in San Rafael, but two days are spent at various hiking sites around Marin County*. Transportation is not provided. Students may request to work at as many camps as they would like.
To apply complete the online Wildlife Camp Assistant application form.
and submit a recommendation form from a teacher or community leader.
ALL APPLICATIONS MUST BE RECEIVED BY Friday, April 28, 2023 by 5pm.
Mandatory training date: Saturday, June 10 from 1:00pm to 5:00pm.
For more information, call 415-453-1000 ext. 120 or email Eileen Jones at eileen@discoverwildcare.org
*Why are WildCare's Wildlife Camps not currently being held at WildCare?
A new strain of avian flu is spreading through California called HPAI (highly pathogenic avian influenza). Although it is considered low risk to humans, this virus is highly contagious and deadly to certain birds. HPAI can be brought into WildCare's facility on shoes and other surfaces.
In order to protect WildCare's Wildlife Ambassador Animals and hospital patients WildCare's property is closed to the public for visitations and camp.
Camp Sessions (dates, times and ages):
Session 1 - Growing up Wild (3 ½ - entering K)
Dates: June 26-30
Session: 8:30am-4:30pm
Location: Short School
Session 2 – Wild California (entering grades 1-2)
Dates: July 10-14
Session: 8:30am-3:30pm
Location: Short School
Session 3 – Weird and Wonderful (entering grades 2-3)
Dates: July 17-21
Session: 8:30am-3:30pm
Location: Short School
Session 4 – Conservation Camp (entering grades 3-5)
Dates: July 24-28
Session: 8:30am-3:30pm
Location: Short School
Session 5 – Wild California (entering grades K-2)
Dates: July 31- August 4
Session: 8:30am-3:30pm
Location: Albert J. Boro Community Center
Session 6 – Conservation Camp (entering grades 3-5)
Dates: August 7-11
Session: 8:30am-3:30pm
Location: Albert J. Boro Community Center