WildCare's Wildlife Hospital During COVID-19
Despite the dramatic changes to life as we know it due to COVID-19, WildCare's work continues.
If you've ever rescued an injured or orphaned wild animal, you know how essential WildCare is!
Fortunately, under the shelter-in-place guidelines for Marin County, WildCare is considered an essential service. Thankfully we have been able to continue providing care for wildlife patients and our resident educational animals with a skeleton crew of onsite staff, and other staff working from home.
Starting last Tuesday when the county implemented the shelter-in-place order, we set up a "social distancing" intake protocol for wildlife patients. Note that our Courtyard and Museum remain closed to the public.
If you rescue an animal:
1. Place the rescued animal in a secure container like a box or bag. Put a small towel (something you don't want returned) or a paper towel (anything to prevent the animal from sliding around) on the bottom. Bring the animal to WildCare.
2. When you get here, use the intercom (see in the photo the yellow arrow pointing to the intercom attached to the gate) and someone from Medical Staff will answer to help you with the intake procedure.
3. Place the animal still inside the container in which you brought him into one of the cages on the bridge. Don't try to take the animal out of your container because you risk him escaping and ending up in the canal! We're asking people to bring animals in disposable containers they don't need back.
4. Using the sanitized pen and clipboard you'll find inside the cage, fill out your information, including where you found the animal and the situation in which you rescued him. Leave the clipboard and pen inside the cage or on top of the cages.
5. Use the intercom to alert Medical Staff that the animal is safely contained, and let them know you're leaving. They will come out to accept our newest patient! Our team will also sanitize the pen, clipboard, cage and intercom to be ready for the next rescuer.
WildCare's Courtyard and Museum remain closed to the public, but we're bringing the Courtyard (and also the Wildlife Hospital) to YOU through daily weekday livestreams on Facebook, (at 1pm PST) and in a daily email featuring the livestreamed video.
Get up close and personal with your favorite WildCare animals! Click to subscribe to the daily animal email now.
[well]
Please consider a donation to help us always be ready for our next wildlife patient! Your support means so much, and your gift will be MATCHED!
[/well]
Meet Some Recent Wildlife Hospital Patients
This pandemic hasn't changed the gratitude rescuers express toward our team when they bring us an injured animal, and it hasn't changed the diversity of patients in our care! We are admitting up to a dozen animals a day using our new intake protocols. Here are three recent stories:
Orphaned Anna's Hummingbird
We were so impressed with the beautiful way this baby hummingbird's rescuer set up the shoebox in which she brought the little bird to WildCare. It was such a great arrangement that our Hummingbird Foster Care Specialist says she's still using elements of it in that baby's enclosure in care!
This young Anna's Hummingbird was found on the ground in Tiburon. Hummingbird nests are incredibly tiny and hard to spot, even when you know where the nest is. Unable to find the nest to return this little one to her mother's care, her rescuer brought her to us.
Upon intake our Medical Staff did an exam to check the baby for injuries. Fortunately she was uninjured. Notes on her intake chart say she's a healthy baby.
Hummingbirds have very fast metabolisms, so we knew she would need some calories immediately. We offered her a special hummingbird formula in a syringe, and she figured out how to eat it pretty quickly! Watch the video above closely and you can even see her tiny tongue sipping the formula inside the syringe.
This baby will join the ten (as of this writing…) other baby hummingbirds already in care with our hummingbird specialist. These tiny birds must be fed every 20 minutes from sunrise to sunset, which is a tremendous commitment for anyone providing their care!
One small silver lining to the shelter-in-place order is that our hummingbird specialist can work from home, so feeding her babies is much easier. The photo above shows her baby hummingbird set-up.
Muddy Turkey Vulture
What happens when a Turkey Vulture eats an animal that has died of rat poison? In this bird's case, a crash landing in mud!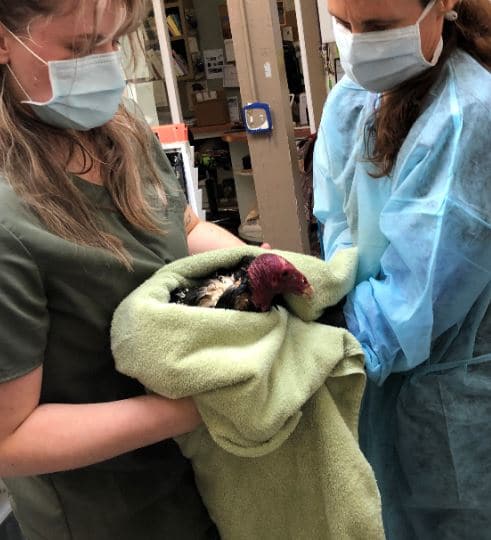 This bird arrived at the Wildlife Hospital covered in dried mud and very quiet. Medical Staff suspected poisoning based on his symptoms, but until he vomited (as Turkey Vultures do when they're stressed!) we didn't know what kind of poison.
The bright green/blue in the vomit clearly indicated that he had ingested rat poison from consuming an animal, likely a rat or a mouse, that had eaten the poison. This secondary poisoning is incredibly common, and it's the reason WildCare began our campaign to test our predatory patients for exposure to rodenticides, and why we advocate so strongly against their use. Learn more about our work here.
Subcutaneous fluids, a crop flush and vomiting helped the vulture expel the poison from his system. Once he was stable, he also needed a bath to remove the caked-on mud from his feathers.
A big bird like a Turkey Vulture is incredibly strong, and our Medical Staff had to work hard to keep him contained as they gently soaped and rinsed his plumage.
They gave him a sedative and placed a raptor hood over his eyes to reduce his stress, but in the video above you can see Director of Animal Care Melanie Piazza still needing to brace herself with her leg on the counter behind her as she works to restrain the bird while Wildlife Technician Jacqueline Lewis does the washing!
After leaving him to rest and dry under the gently-warming heat of a pet blow dryer, our team moved the vulture into an outdoor enclosure to allow him to preen his feathers back into place and replenish his waterproofing.
As of this writing he is flying well. Weather permitting, we hope to release him on Monday.
Join us for the livestream the release on WildCare's Facebook page at 1pm PST that day (March 30) or click here to receive the daily animal email that will feature that video on Monday!
.
Mallard Tangled in Many Things
This handsome male Mallard really got himself snarled up last Monday! He arrived with two fishing hooks embedded in his wing and a mass of garden netting, tangled within the hooks and his feet, impeding his ability to walk.
Upon intake, our Medical Staff sedated the duck to take radiographs (x-rays), snip away the netting and line, and remove the embedded fishing hooks. They gave him medications for pain, infection and inflammation and let him rest.
The next day the bird hadn't eaten anything and his carpus (the joint equivalent to our wrist) was swollen and inflamed. However, another day of rest and recovery, his appetite had improved. The team placed him in an outdoor pool to both give him exercise and improve his morale.
He continues to improve day by day, but based on years of previous experience with fishhook injuries, we know that this mallard will need at least 14 days of antibiotics to fight off potentially aggressive infection and to recover from his injuries.
We'll keep him swimming in his pool until he's healed and ready to return to the wild!
[foogallery id="8615″]
Stories, photos and videos by Alison Hermance and Melanie Piazza
.