Wildlife Hospital Volunteers (ages 18 and over)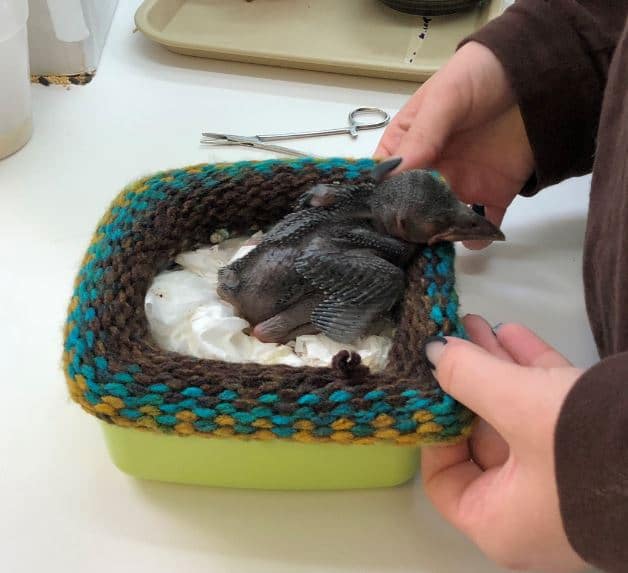 WildCare is now accepting a limited number of new volunteers to work with our animal patients hands-on in the Wildlife Hospital.
Interested volunteers must complete this form, after which our team will follow up with a short 10-15 minute interview over Zoom.
Accepted candidates will then have a 2-hour onsite working interview.
If you are chosen to become a volunteer, you will then work a weekly 4-hour shift one-on-one with a seasoned Wildlife Hospital volunteer, maintaining social distance, wearing masks and following other requirements for COVID-19 safety.
Unfortunately, due to COVID-19 restrictions, we are not currently accepting volunteers under age 18.
Questions? Please contact our Volunteer Manager at volunteer@discoverwildcare.org or 415-453-1000 x21.
Volunteering in WildCare's Wildlife Hospital
Our Wildlife Hospital cares for over 3,500 wild animals a year, from as many as 200 different species. We provide ongoing care for our patients seven days a week, fifty-two weeks a year with a dedicated team of staff and more than 250 volunteers.
Our goal? To restore our wild patients to full health so that they may be released safely back to their natural habitats.
Volunteers learn species identification, hygiene and safety precautions and protocols, proper diet and food preparation, physical therapy regimens, and proper handling techniques. Hospital staff and volunteers work to provide comprehensive diagnoses and treatments for our patients utilizing x-rays, blood work and more. Everyone works together to accommodate the feeding, cleaning and medication requirements of each patient.
Upcoming Orientations
for Wildlife Hospital Volunteers (ages 15 and over)
Due to COVID-19 restrictions, we have not yet scheduled the next orientations for new Wildlife Hospital volunteers. Normally orientations are held in late February, so please check back.
Once registration is available, you will be able to choose either the Saturday or the Sunday orientation when you register. There is a non-refundable $15 registration fee for orientation.
*Please note, if you are between 15 and 17 years old, you must attend the scheduled orientation with your own parent or guardian.
Volunteer Requirements and Additional Information